Backyard suites are becoming more and more popular among homeowners in the Calgary region. Already a popular build in other major Canadian cities such as Vancouver and Edmonton, backyard suites may look like another home, but in reality, they adhere to a unique set of rules that other residential construction doesn't always follow.
Hence, it's important you acquire a backyard suite builder in Calgary with experience in building such projects. It will help you speed up the permitting process and make the overall project time length shorter from start to finish.
With that in mind, here are three of the most important questions to ask a potential backyard suite builder in Calgary. Please don't hesitate to contact us if you have any other questions and we will be happy to discuss your backyard suite goals! Also see:
#1 – What is your experience in residential construction?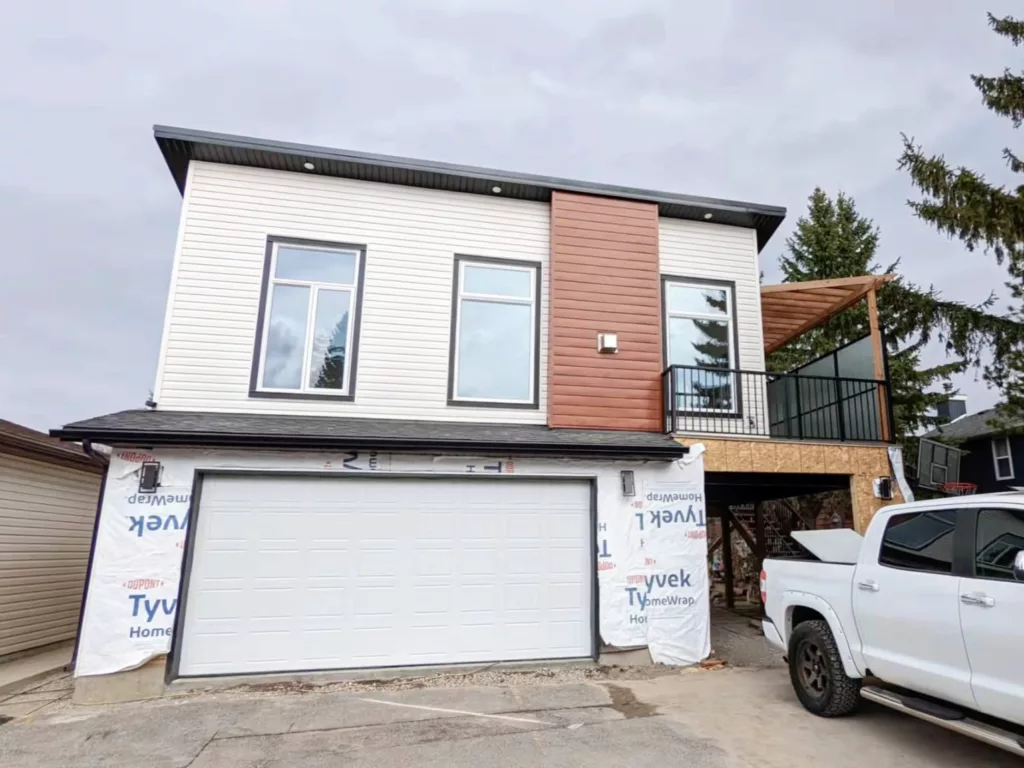 Deer Ridge Project
Experience is critically important in the home building business; therefore, it should go a long way in helping you choose which builder to go with for your backyard suite project.
An experienced builder will have several past projects for you to review via pictures. They also may have a show suite available for you to inspect the finishings and quality of the build more closely.
Online reviews also reflect the experience a builder has. A builder with several good reviews should be considered as a likely candidate versus another who doesn't. Having ample experience building garage suites can go a long way in helping smooth the overall permitting process and progressing your project towards completion.
Garage Suites Ltd.'s parent company Gold Homes has been building custom infills (some with garage suites) since 2008. We know inner city and backyard suite construction like the back of our hand and would love to put that knowledge and experience to work for you!
#2 – What do you know about permitting for backyard suites?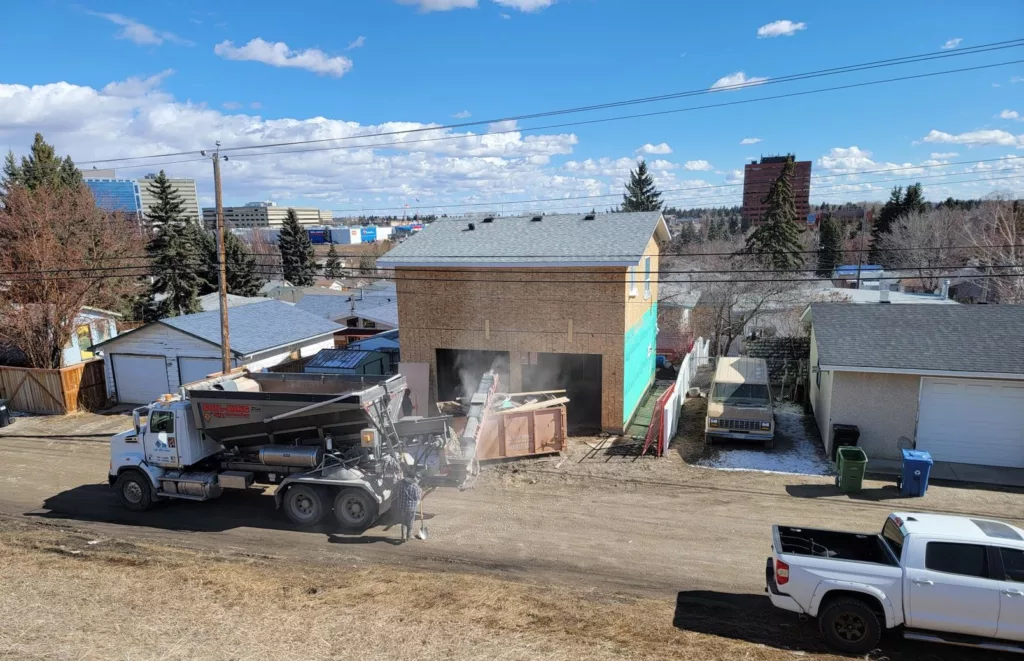 Southwood Project
Obtaining a development permit (DP) may be the trickiest situation you have to face when looking to build a backyard suite on your lot. Several factors play into the level of difficulty in getting your DP approved including (but not limited to):
Lot depth and width
Setback requirements
Power pole clearances
Backyard suite exterior design, or "elevation"
Utility connections
Suppose you decide to go with an architectural designing and permitting firm without experience in applying for garage suites. In that case, they may not be familiar with specific guidelines set forth for these types of projects by the City of Calgary and Enmax such as power pole clearances and suite elevation restrictions.
At Garage Suites Ltd., our architectural and permitting team submits DPs on a monthly, if not weekly basis in some instances. As a result, we are up-to-date on all regulatory and bylaw changes and know what will or will not be approved before submitting any DP on behalf of our client.
#3 – What does your pricing structure look like?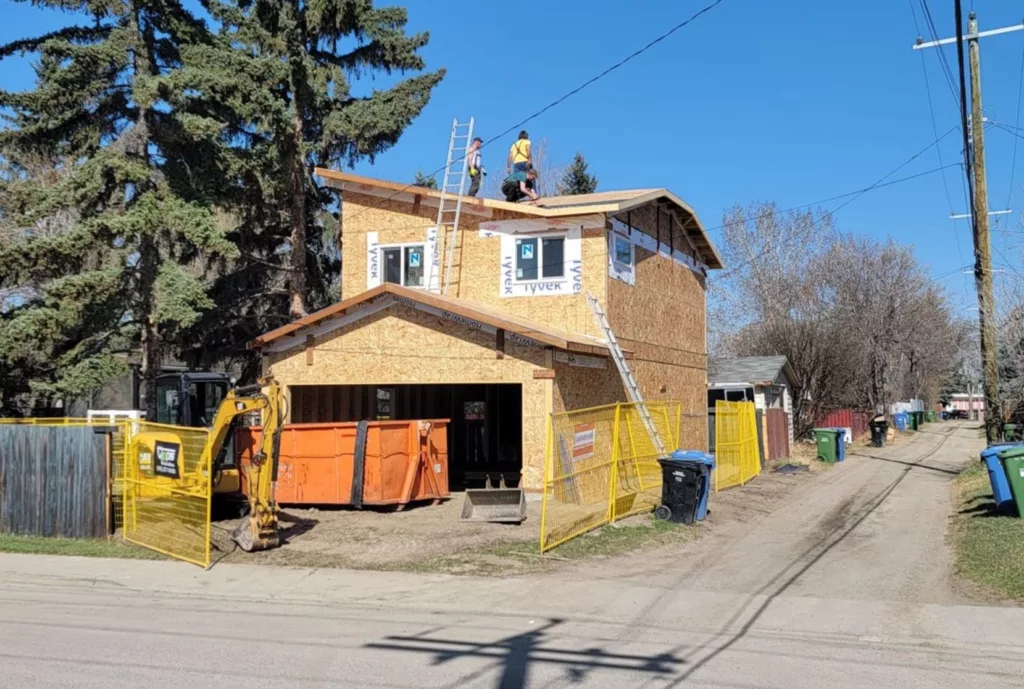 Montgomery Project
Uncertainty in global supply chains among other factors are contributing to the increase in cost for just about anything nowadays. Therefore, you need to know just how a backyard suite builder prices out their projects before moving forward.
Most builders use two pricing methods, they include:
Variable: Variable pricing means that the client is on the hook if material or labour costs increase. For example, you may be quoted at $250,000 + GST for a suite, but then the price of lumber skyrockets after your permitting phase is done and construction is set to begin.
Under a variable pricing agreement, you would have to pay the difference between what the builder originally included in the lumber quote for your project and the current market prices for the order.
Fixed: A fixed pricing arrangement means the client is provided with one price for their backyard suite project and will see no changes to that price regardless of external forces.
Fixed prices are typically preferred among homeowners as it also makes it easier to get a loan from the bank.
At Garage Suites Ltd., we offer clients a fixed pricing structure despite volatility in the global supply chains. As a sub-company of Gold Homes and sister company of Tops Excavation, we have the tools available to ensure our pricing is highly competitive on today's market even amid increasing material and labour costs!
Do Your Due Diligence!

Building a backyard suite may be one of the largest home construction projects you partake in over your entire life. Therefore, it's essential to do your due diligence and ask any prospective builder these three questions before signing on the dotted line.
If you have questions about backyard suites in Calgary or would like to ask us the three questions above, we welcome you to contact us anytime! We are looking forward to connecting with you to discuss your backyard suite goals!